Bathroom Cabinets; Organizing Ideas for the best storage
I will show you how to maximize your space under the bathroom sink for storage—sharing the perfect tools you need and a few tips.
Welcome to the 2nd Fabulous Friday Link Party Blog Hop. The Fabulous Friday Link Party is where you can find the best posts from dozens of home bloggers every Friday.
Four times a year, the six hosts pick a regularly participating blogger to join in the blog hop.
February is the month for cleaning and organization, and this blog hop is dedicated to inspiring and helping you unleash your cleaning and organizing brilliance. Be sure to visit all twelve posts. — so many unique ideas, tricks, and hints. They are all listed at the bottom of the post.
As you will see, this is not my typical post. Typically I like to show you beautiful things. This is not so pretty, but it is reality, and I hope you find my tips helpful.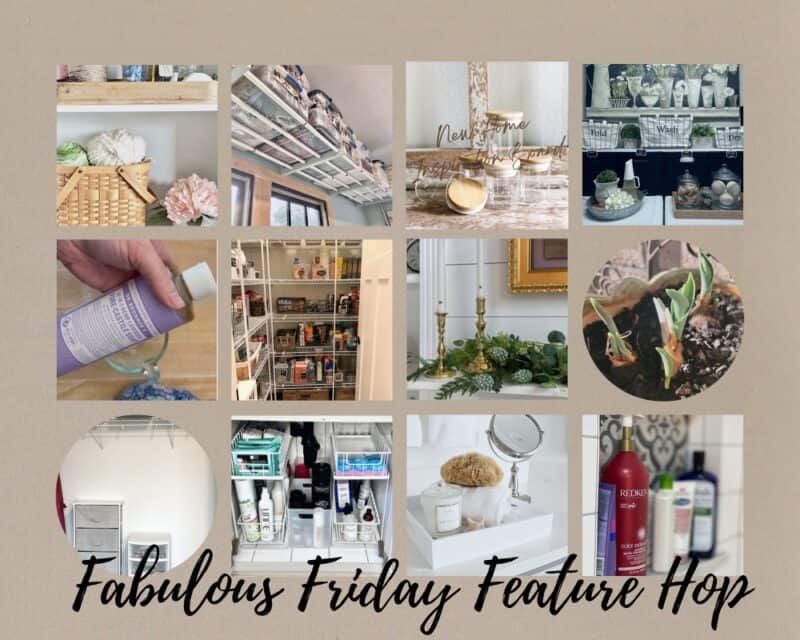 Bathroom Cabinets; Organizing Ideas- making use of your vertical space
Have you ever opened the cabinet door and just hated what you saw? Well, that was me. I will be honest. Organizing doesn't come easy for me. I like easy access to the products I use most frequently, like hair products, hair dryers, and hair brushes.
We live in an old house that has the smallest bathrooms. Honestly, you can barely turn around in them. And we do not have a medicine cabinet, so my storage space is limited. I had to get into the bathtub to photograph the back of the cabinet. Yup, it's that small.
Bathroom storage can be tricky in our house, but today I will share the under-sink cabinet organization I used to create more vertical space. It is a small space in that I have maximized the storage.
In addition, I will share a great way to store make-up using drawer organizers and small trays.
On my blog WM Design House, I may sometimes use affiliate links, which means a small commission is earned if you purchase via the link. The price will be the same whether you use the affiliate link or go directly to the vendor's website using a non-affiliate link.
Creative Small-Bathroom Storage Ideas to Maximize Space
Here is a list of ideas that can be used for a small bathroom with minimal space. Of course, you may be able to use some and not others. It all depends upon your area.
Use a towel bar for hand towels so you don't have to store them in the cupboard.
Mount storage containers inside your medicine cabinet door or your cabinet doors if possible.
Use adhesive hooks for hair tools.
Use a lazy Susan for small items such as cotton balls, cotton swabs, nail polish, or bobby pins.
Place a small bin in your shallow drawer to keep make-up brushes, nail clippers, or anything small you use daily.
Use a hanging organizer in the shower.
Create vertical space by using stackable storage units.
Add hooks to the back of the door for towel and robe storage.
So let's get started with cleaning out the bathroom vanity, under the sink, and the bottom drawer of make-up.
Step 1 Declutter
Bathroom organization is critical, whether it's a little powder room or an elaborate en-suite. You can unlock the potential of any space by optimizing its layout and setting up efficient storage solutions to reduce clutter and maximize functionality.
Our bathroom on the left is relatively small, unlike our son's bathroom, which I believe is more significant than our bedroom. However, if you organize your space well, your bathroom size does not matter.
What are the dangers of a cluttered bathroom?
In a perfect world, we would wake up on time, feel rested, prepare quickly, and be out the door. However, this is real life, and stuff tends to get in our way.
The bathroom tends to be the first room we go to when we wake up in the morning. Therefore, starting your day in a room with cluttered bathroom items is not a good idea.
Honestly, it just sets you off on the wrong foot.
Secondly, a cluttered bathroom can be dangerous to our health. Old make-up, expired medications, and bath and body products that have been around for a long time can be toxic.
How do you declutter a bathroom?
Remove everything from the cabinet.
Create three different piles. Trash, donate, keep/relocate.
Please go through all of the items and separate them accordingly. Be sure to look at any medications for expiration dates. Get rid of products you do not use. You can always donate them to a new home if they are still good products or put them in the trash.
Relocate items that do not belong under the bathroom sink or in the bathroom at all. Maybe they belong in the linen closet or the kitchen? Think about the appropriate place to store them.
Remember to keep bathroom counters clear and free of clutter in addition to your cabinets and drawers.
Put your hand soap in a cute dispenser to alleviate a bar of soap that will take up more counter space.
How do I choose the best bathroom cleaner?
With so many products on the market, it is hard to know the best cleaner. However, with the bathroom being one of the dirtiest rooms in the house, we want to ensure we are using the proper cleaner.
Good Housekeeping has tested the best products in your bathroom for 2023. You can read it here.
So now that we know what to use to clean the bathroom, let's get cleaning.
Be sure to wipe everything down and remove all hair and debris from the cabinets and drawers.
Refresh the walls and lining of your drawers and cabinets.
Since my bathroom has not been updated in several years, the inside of my cabinets looked a bit dingy. So I chose to line them with peel-and-stick wallpaper.
I chose a rather plain paper that was a light color to look clean and crisp.
The new wallpaper gave a fresh look to the cabinet right away.
Choosing the organizers for your cabinets and drawers.
Measure and then measure again.
Try to go up and use the vertical space if possible. I did this using two metal drawer organizers I found at a great place, "Target."
Shop different stores such as the Container Store, Target, Bed Bath & Beyond, or Walmart for other storage container ideas.
You can use stackable containers, metal drawers, wire baskets, and plastic bins. There are so many options, so be sure to shop around.
Plastic dividers are also an excellent alternative for drawers that don't have a lot of space for small containers.
Separate and organize your product by category.
Create different categories of products to organize your stuff.
Hair Products
Hair Tools
Body Care
Facial Care
Female Products
Make-Up
Medications
Sunscreen
Organize your products according to their category in your clean new cabinet.
Drawer Organizing
Lastly, I cleaned out my make-up drawer. For some reason, I always accumulate more than I use. However, I was determined to get rid of half of what was in the drawer, and I accomplished my goal.
It is such a good feeling to have clean drawers and cabinets; let's see how long I can keep it this way!
Be sure to check out all of the other posts below from the Fabulous Friday Link Party all about organizing; you will be so inspired.
Until next week!
Other posts you will enjoy
How to make my award-winning granola
How to make the best Valentine's Day Treats
Click here to read Wendy's fantastic story.

As the temperature cools off and leaves start to turn this time of the year, Trader Joe's unveils its enchanting lineup of pumpkin-flavored delights, setting the stage for my beloved autumn pastime: baking. In our home, baking with my granddaughters is a treasured tradition that warmly fills our hearts and cookie jars. After all, visiting…
The weather has been getting cooler, which is quite enjoyable. Today, we reached a high of 73 degrees. I hope you're also experiencing this pleasant change. It seems like most of us are eagerly anticipating the arrival of fall. The other day, I was on my way out the door to go for a walk…
If you're reading this, you might be on the hunt for the perfect paint color for your kitchen cabinets. Well, you're in the right place! I'm here to guide you through the wonderful world of blue-gray kitchen cabinets. I'm sure you've noticed the growing trend of blue-gray kitchen cabinets. It's a trend that's been sweeping…