She Shed Sharing: DIY pillow for the Fourth of July
Sharing from the she shed. A DIY tutorial on how to make a Fourth of July pillow. Including some inspiring blog posts from around the web.
Happy Saturday, friends! as many of you know, I have suffered the last few weeks with Covid.
Boy, have I felt like life was zapped out of me.
I know many of you have had it, and I can sympathize. I am trusting that at some point in the next few
weeks I will get my energy back.
Typically I can get a lot done in one day, but not so much lately!
I found a little energy to sew this sweet pillow while sitting on the couch and wanted to share it with you.
I know I shared this is an extensive blog hop I participated in this week, but I felt it deserved its own post today. So if you have already seen it, you can skip to the good part.
I also share lots of beautiful inspiration I found on the web this week. As you know, I had a lot of time to look :)))
How to make a simple DIY pillow for the Fourth of July
Start with a basic off-white canvas pillow cover and a few pieces of all-American fabric like below.
Print out a large star on the computer. These are easy to find on google. I adjusted the star into two different sizes, then cut out the stars in the fabrics and placed them where I wanted them on the pillow front.
Using some fabric adhesive iron-on tape, I attached the stars to the pillowcase.
Next, I hand-sewed the stars onto my DIY pillow for the fourth of July with an embroidery needle and thread.
You can choose different embroidery thread colors for each star if you like. I wanted raw edges on my fabric, so I did not turn the edges over. Ragged edges are the look I was trying to accomplish.
And there you have it! A creative and decorative DIY Fourth of July pillow.
Now on to the enjoyable stuff I found on the web this week.
Dreaming of living in the country
You all know how I dream about living in the country. Well, check out this fantastic farm my friend Penny from PennyPenningtonweeks lives on! It is gorgeous.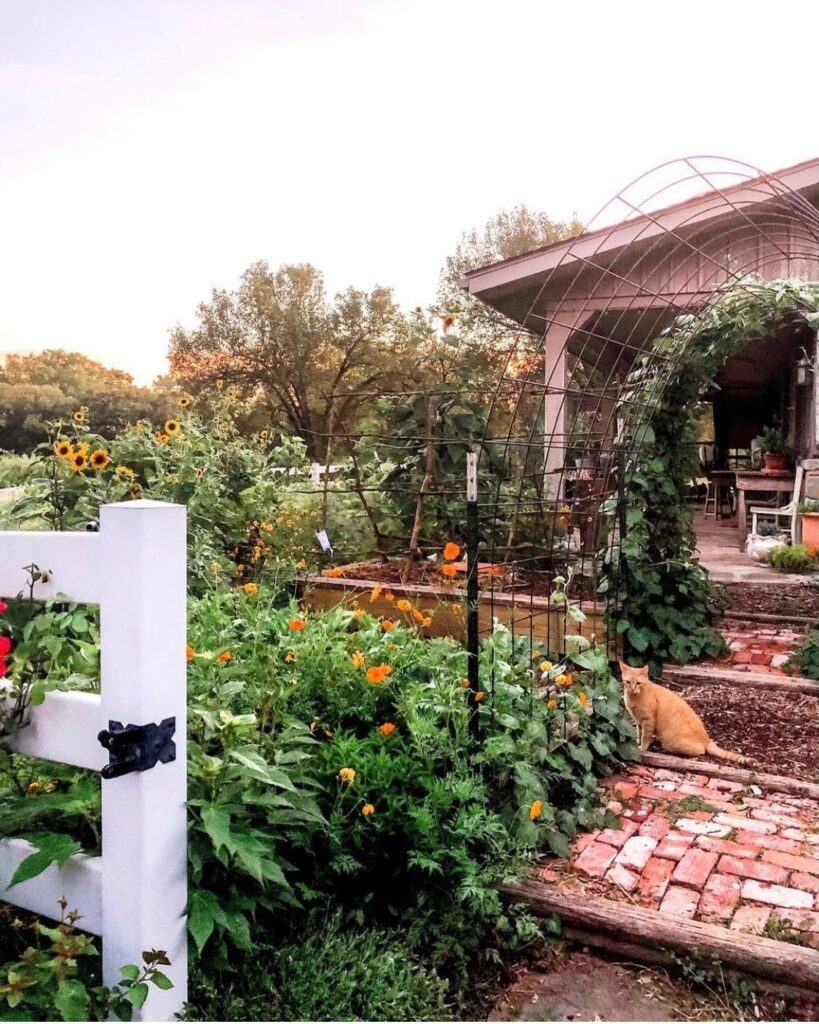 How Michele Created A Red White and Blue Tablescape on a budget
My friend Michele from Vintagehomedesigns is impressive! Check out her gorgeous tablescape for the fourth of July.
Look at all this galvanized goodness.
My sweet friend Ann from Dabblinganddecorationg and her friends shared their love for galvanized buckets and how they use them.
So many beautiful ideas.
Beautiful CottageCore Wallpaper Options For Your iPhone (with instructions)
Amy @amysadlerdesigns shares how to hang wallpaper on your I phone. I can't wait to try this.
Beautiful Lakeside Cottage Summer Home Tour 2022
Renae from Peacockridge Farms takes us on a tour of her beautiful lake house.
A Tisket a Tasket, a Fourth of July Basket
I adore this sweet door basket from Jen, my friend Midwesstlifeandstyle
Love these fun She Shed Shares?
Check out some of these other She Shed posts for more inspiration!
1 10 Easy Fourth of July Decorations
2 All you need is Red, White, and Blue
3 How to make a garden clock out of old vintage garden tools